Estimated reading time:
6
minutes
'Hello, Toilet Dolly!' is my latest Sight Scotland charity fundraiser. For a chance to win a unique and functional Lego toilet doll, please donate via my JustGiving page.
What's a toilet doll?
For those unfamiliar with a toilet dolly, these crocheted or knitted figures discreetly cover the spare toilet roll in your bathroom.
They were quite common in Scottish homes during the 60s and 70s. Some of my family kept theirs proudly on display until the 90s.
Traditionally these kitsch handmade dolls were sold to raise funds for local charities and churches.
Win your own Lego toilet doll!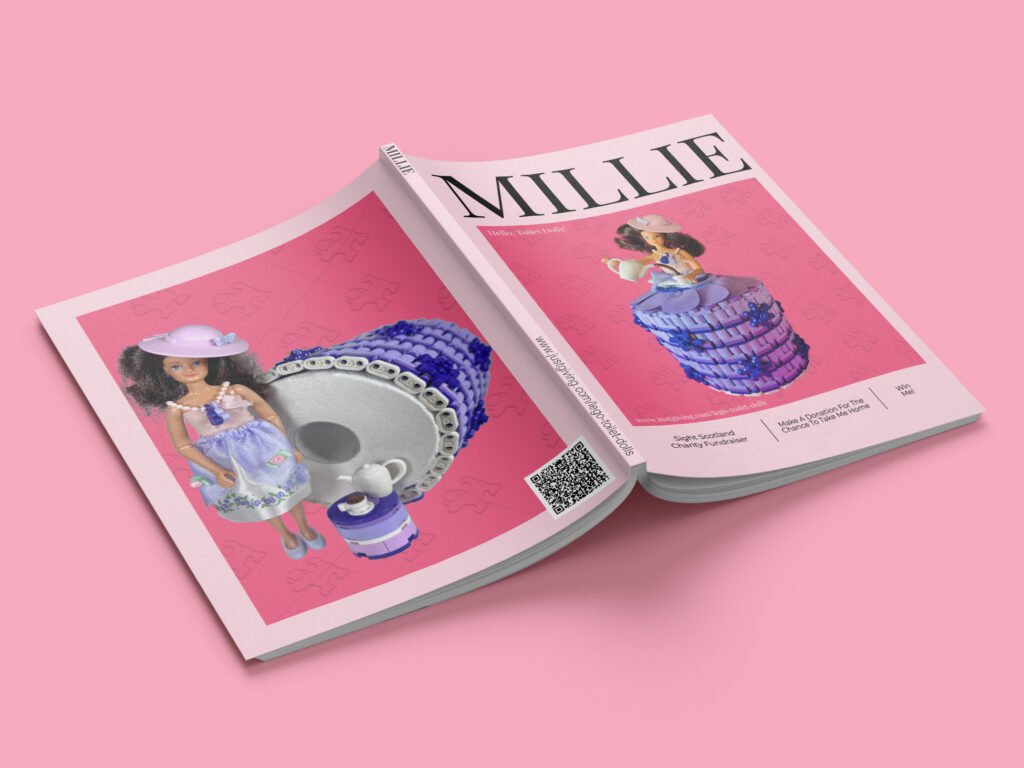 For your chance to win a unique and functional Lego toilet doll please make a donation on my JustGiving page. All proceeds are going to Sight Scotland, a charity very close to my heart.
Everybody who donates and shares their contact details will be entered into a random draw. The lucky winner can have the doll of their own choosing and I'll ship it anywhere in the world.
Donating £2 or more will make a difference to Sight Scotland and you might win a toilet doll as a wee thank you!
Times are tough, so I do hope my Lego toilet dolls make you smile. You can download a free desktop or phone wallpaper from this website or Flickr.
My own sight loss journey
Two years ago, I permanently lost some of my vision following a series of retinal detachments. The trauma of five major surgeries and trying to adapt to my new circumstances has been hard. But playing with Lego has helped my rehabilitation both physically and mentally.
Sight Scotland offer specialist support and advice to individuals and families living with sight loss. They are dedicated to empowering people with visual impairments to lead fulfilling lives.
My sight loss journey (13 April 2021)
'Here Come the Girls'
Peggy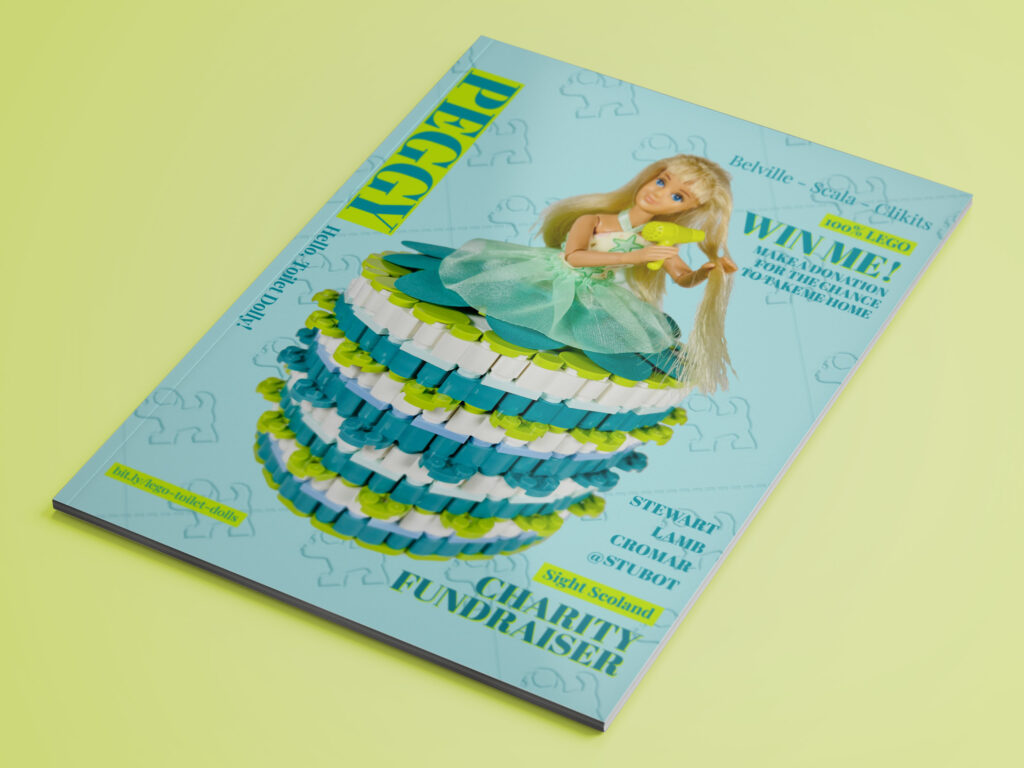 This first doll is named in honour of my maternal gran Margaret Stewart, affectionately known as Peggy.
She regularly crocheted toilet dolls to raise money for Knox's Church in Arbroath. As a member of the Woman's Guild, they would craft or bake items for a 'sale of work'.
Later in life she experienced significant sight loss from cataracts but was helped by these high-strength glasses.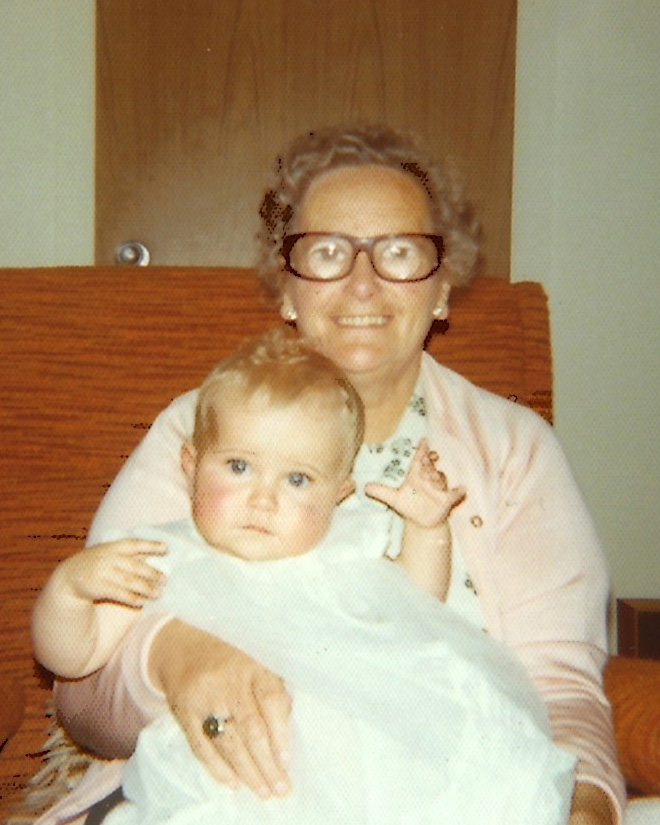 Millie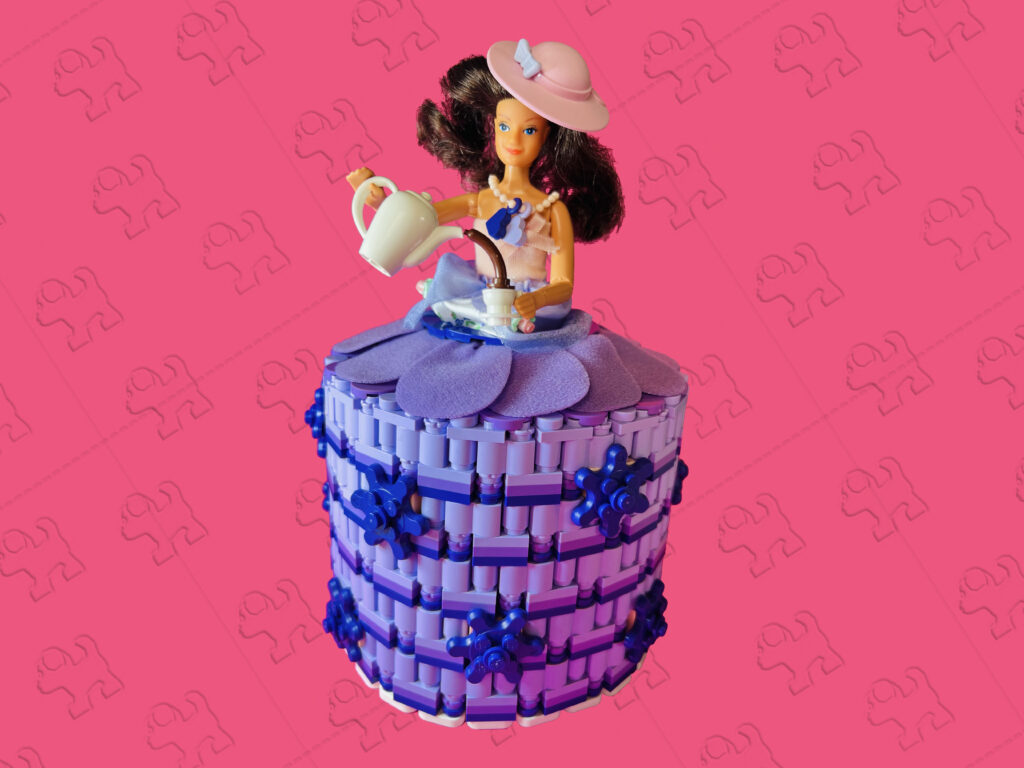 My paternal granny Millie Cromar, her Sunday name was Amelia, kindly knitted toilet dolls to raise funds for the Old and Abbey Church in Arbroath. I think the first one I ever seen must have been in her bathroom, she always had one proudly on display.
Margaret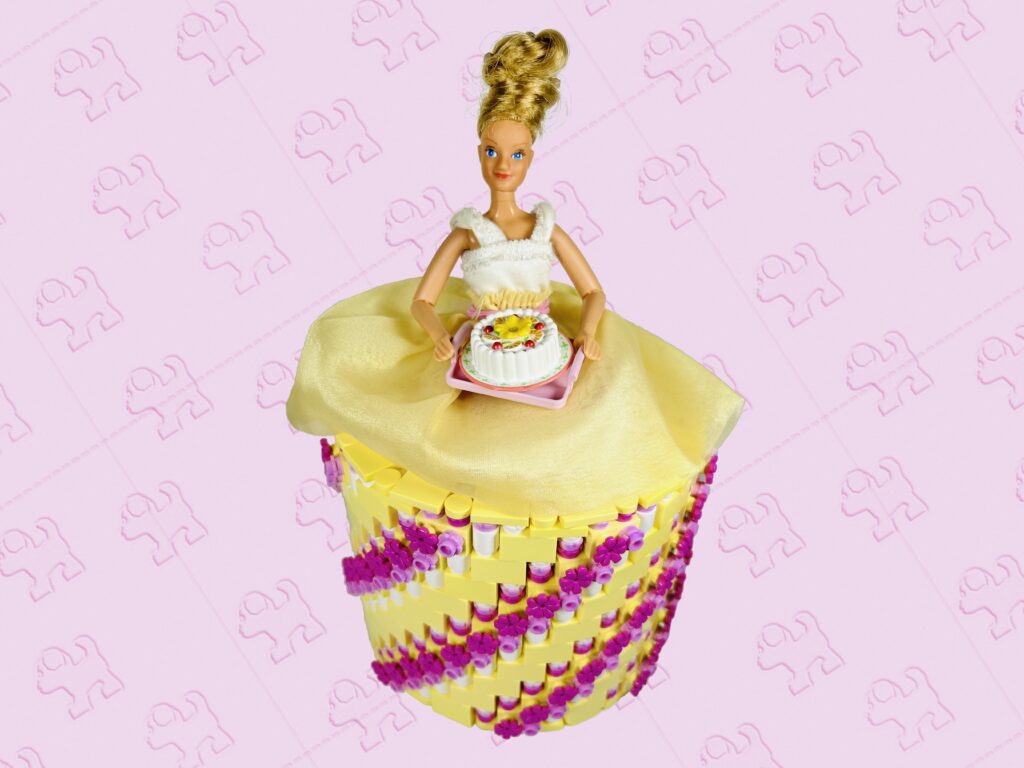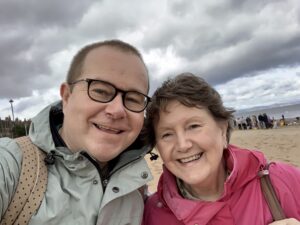 This doll is for my Lego building buddy (and mum). Margaret has helped me through every step of my sight loss journey; taking me to hospital at 3am when my retina first detached, unlimited cuddles when I couldn't stop crying and helping me to carry on working full-time.
All of this during lockdown and whilst experiencing her own major complications from recent cancer surgery. Together we've helped each other go forwards with as many laughs along the way. Thank you Margaret.
Isobel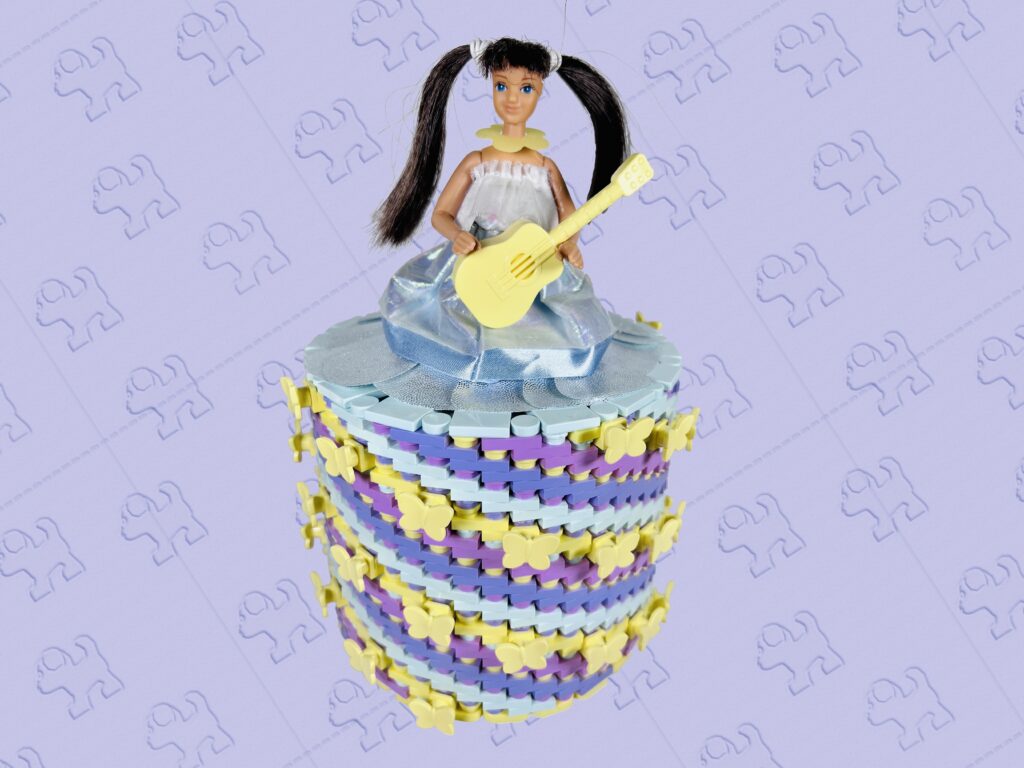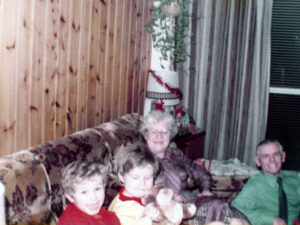 This fourth doll is a tribute to my Auntie T, her Sunday name was Isobel Thomson. My very first neighbour in life, Auntie T was instant family. She was the kindest soul who always had a wee joke, 20p and stick of Wrigley's chewing gum for me and my brother every week. We miss you sorely Auntie T.
Is it Lego?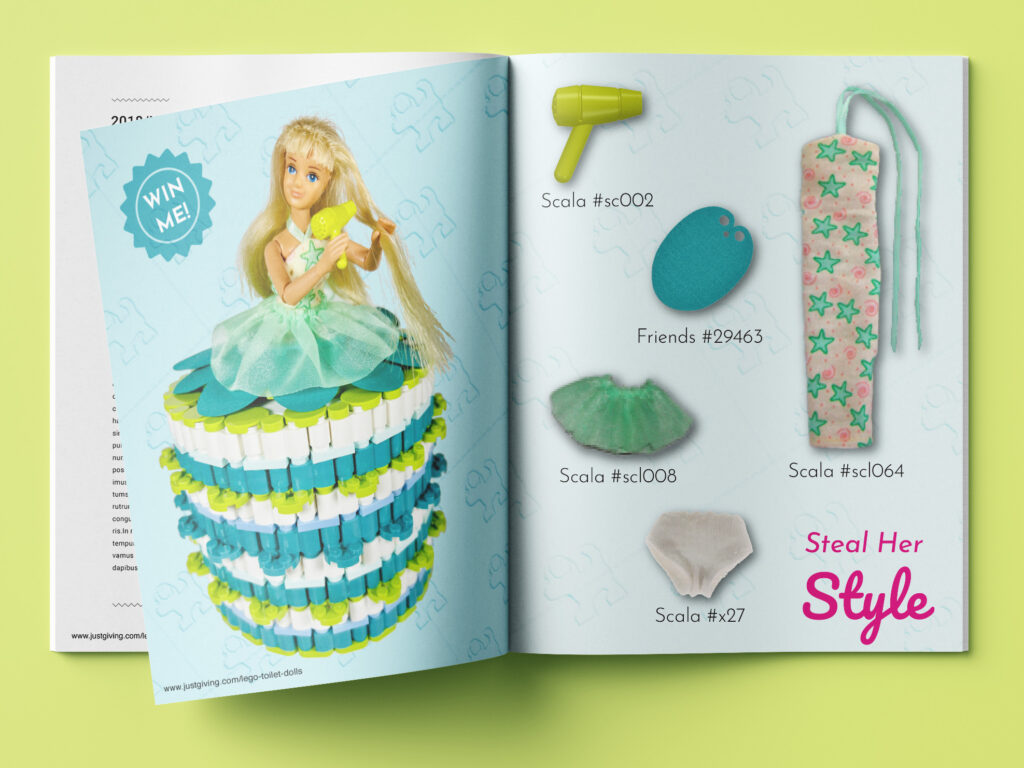 100% of everything used in the model is Lego. There are parts from a variety of old and new Lego themes including: Belville, Clikits, Duplo, Friends and Scala.
All the toilet dolls are from the Scala range, a relatively obscure and unloved Lego theme.
What is Scala?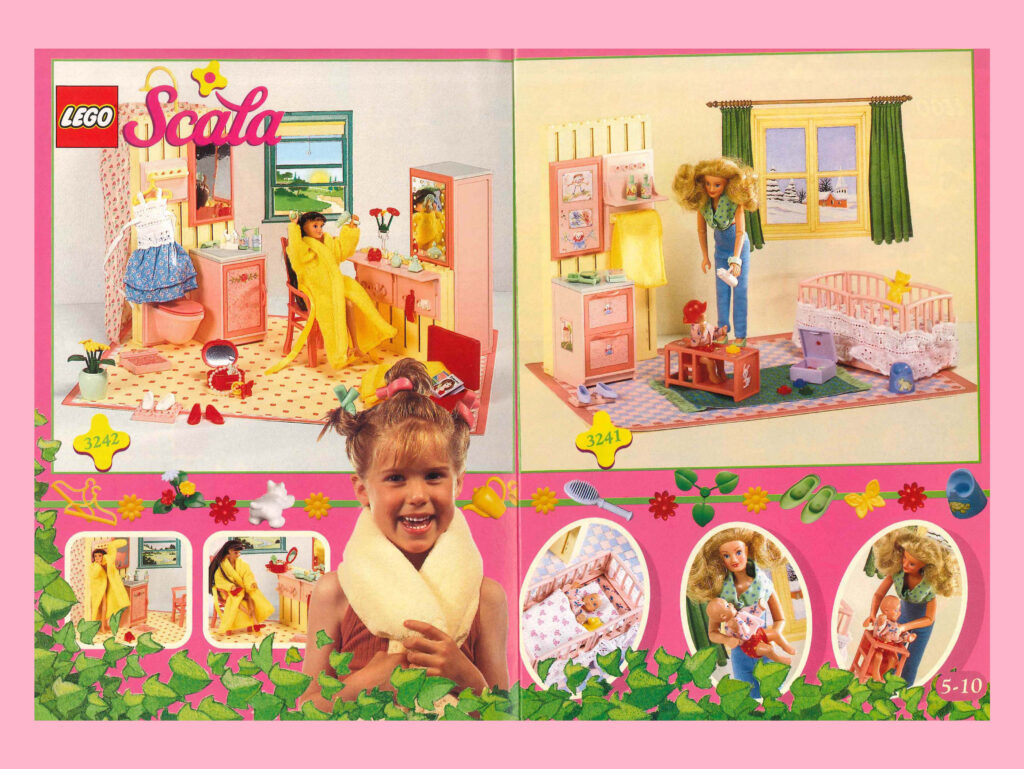 In 1979, a product range called Scala was launched, which was a range of jewellery targeted directly at girls. However, due to its poor performance, Scala jewellery products were discontinued after two years.
The better-known Scala doll theme was launched in 1997 and ran for five years. Like Sindy or Barbie these dolls focused on fashion, hobbies and homemaking.
Scala factoids
Scala means stairs in Italian and some of the larger sets contained amazing spiral staircases. Set 3290 'The Big Family House' had a distinctive salmon coloured staircase you had to assemble step-by-step.
Three of the main characters in the current Friends theme, Olivia, Andrea, and Emma, have the same name as original Scala characters.
Project timeline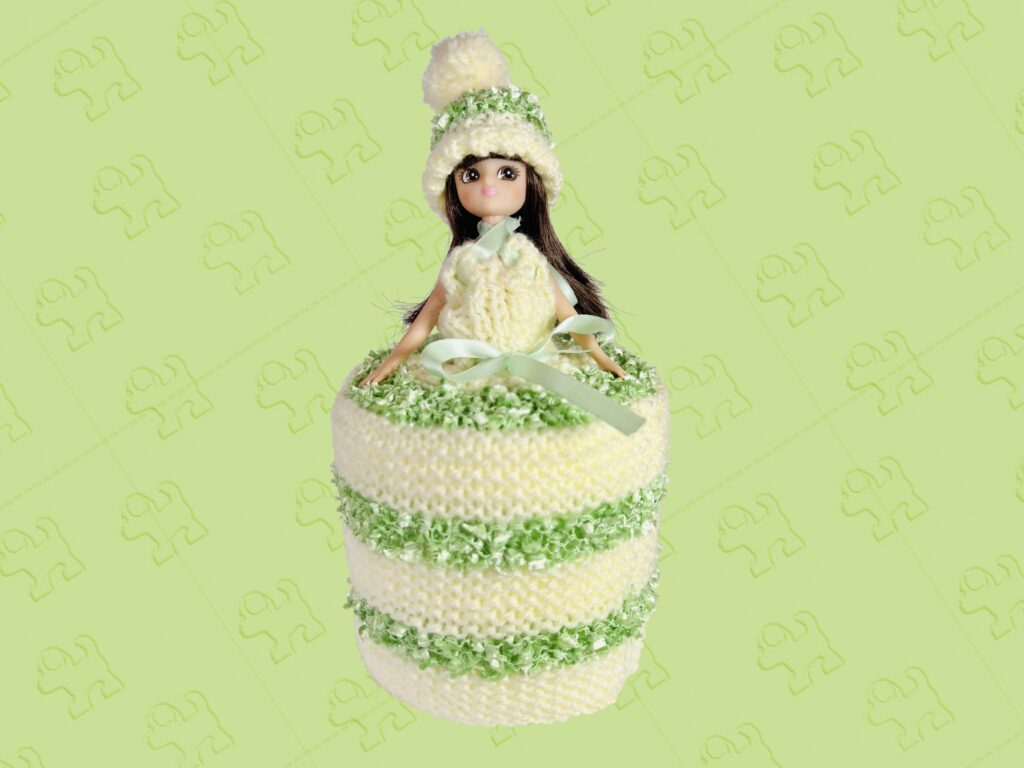 In November 2021 I commissioned my mum's good friend Nan to make me a knitted toilet doll. She regularly makes and sells these beautiful dolls for charity in Fife. I wanted to support her fundraising, but also, I was very nostalgic about the craft both my grandmothers had embraced. The seed of inspiration was planted.
Brick-bending prototypes
Later in February 2022 I started experimenting with a 'brick-bending' technique I found on YouTube. These circular forms are more commonly used for historical buildings like castles or brochs in the Lego fan community.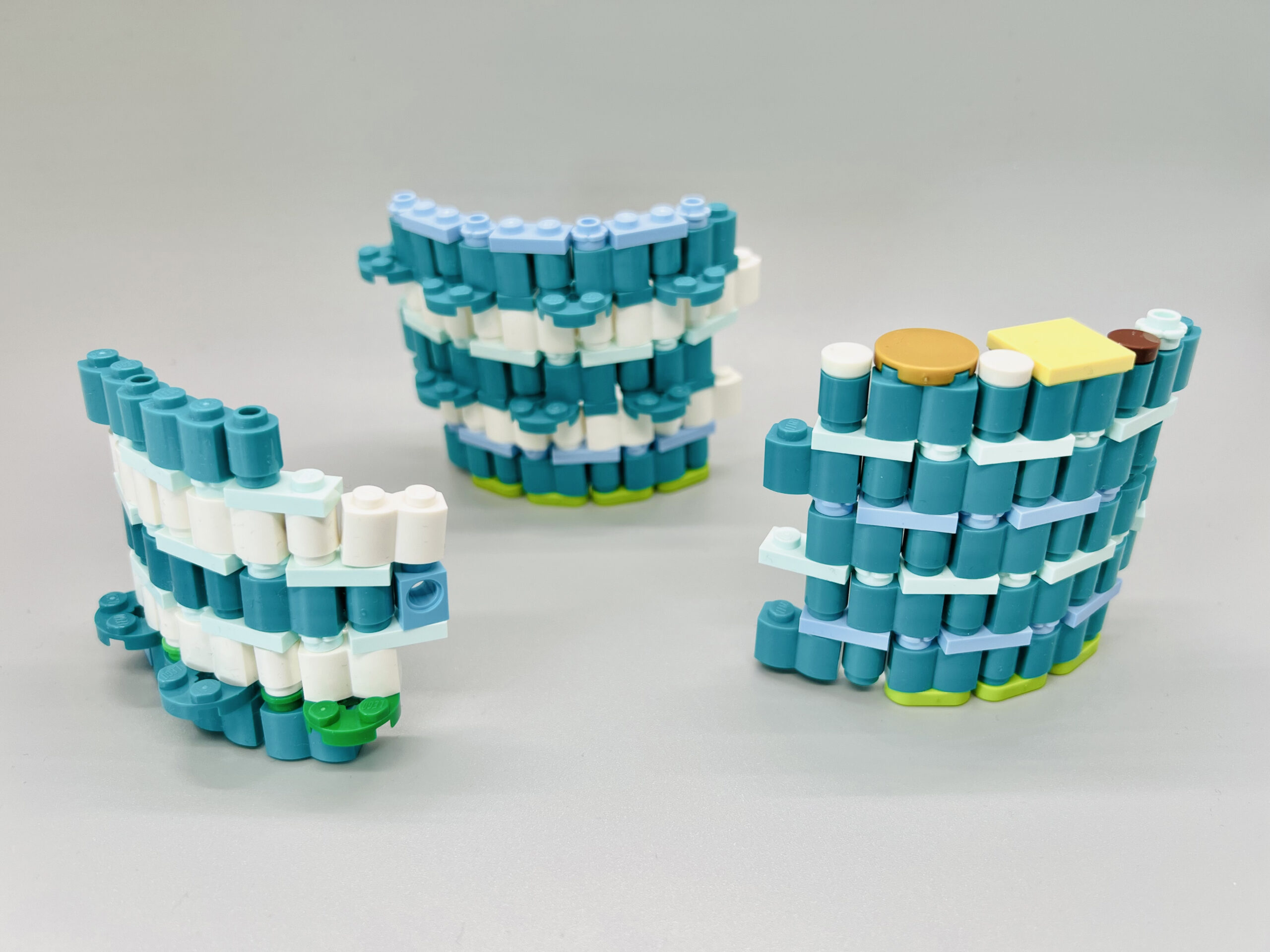 Around the same time, I started exploring Scala more seriously and bought my first doll. It may have been happenstance or a subconscious act, but it wasn't long before I built a prototype Lego toilet doll for no other reason than curiosity.
Nan's woollen reference doll was inspirational and essential for my Lego version in terms of aesthetics, textures, scale and creativity. Thank you Nan.
Whilst in the midst of developing my toilet dolls, I downed tools and swapped focus for an official Lego Ideas contest instead. Recycling the same brick-bending technique, I went on to design my 'Lego Mouse Party' 90th birthday cake. After proudly winning a runner-up place in that competition I went back to my dollies.
Runner-up Winner! (5 May 2022)
Family tradition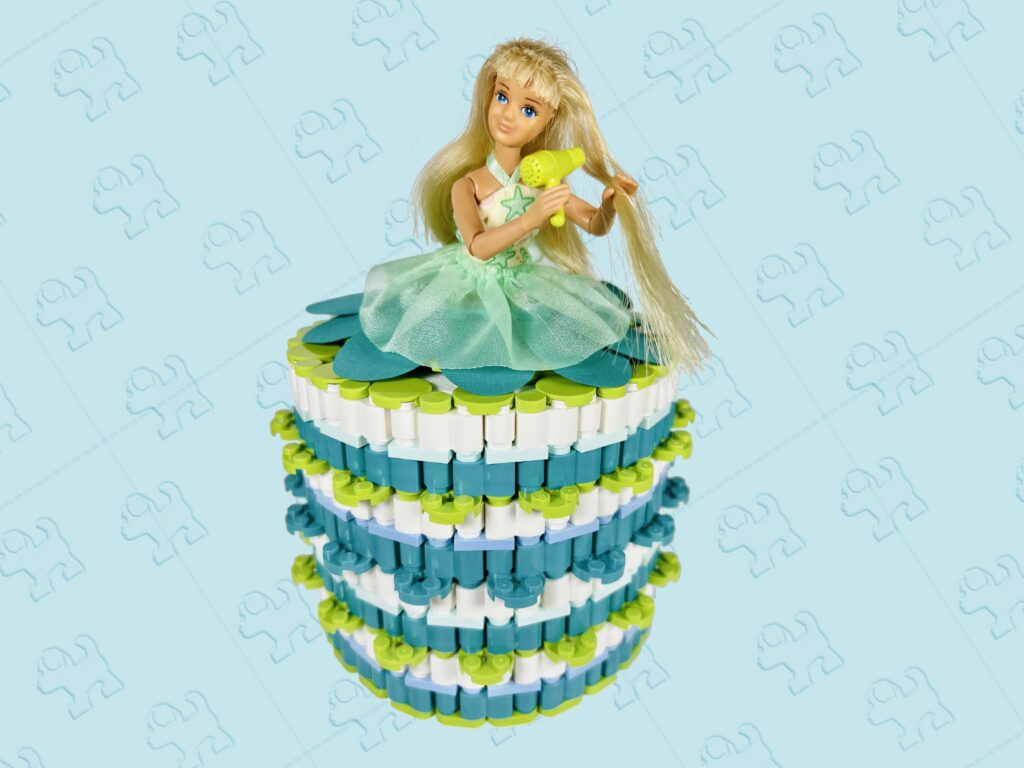 Since my sight loss things take a little longer, and almost a year since Nan's original doll here we are. Hopefully you enjoy this artwork series and it raises money for my chosen charity, honouring loved ones and prolonging a traditional Cromar family craft.
Leg Godt (?? Play Well), Stewart x
---
Copyright
Except where otherwise stated, images are:
Copyright © Stewart Lamb Cromar 2022. All rights reserved.
Traditional toilet dolls image credits: