Estimated reading time:
4
minutes
Practical, honest and positive advice for attending a surgical hospital appointment. Written by a sight loss patient with type-1 diabetes (T1D).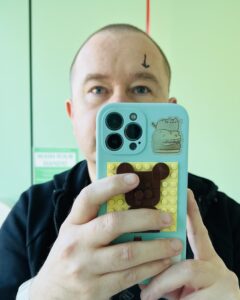 In December 2022 I underwent my 7th ophthalmic surgery (vitrectomy for a retinal detachment), the first was back in June 2020.
I have personally found the process gruelling and somewhat traumatic, but my hope is this advice will help you have a positive experience when attending hospital for any surgical appointment, not just ophthalmic procedures.
N.B. This guide is also an open-licensed educational resource that can be reused, remixed and shared. Please do comment or contact me with any feedback or questions.
1) Diaries
Without question keep a personal diary of all medical related matters. Having a list of questions for your next consultation is invaluable. I'd suggest making it a short list of 2 or 3 pertinent questions and definitely prioritise them.
When emotions take over it's easy to forget your key questions. In my experience consultants appreciate you taking notes and bringing questions with you.
2) Priorities
Keep your work regularly informed on news and timelines. They provide essential support and reassurances. Returning to work is a key motivational goal.
Consider resigning from any volunteer committees. You don't want any optional responsibilities to distract from your recovery.
3) Prep your technology
Learn how to increase the text size on your smartphone. Similarly, in-built magnification and voiceover tools can be extremely useful.
Doctors measure visual acuity with logMAR charts, I track my phone's text size. 235% was when my sight was the worst and 135% is a typical good day for me.
4) Expectations
Whilst trying to stay positive, do accept the possibility that follow up surgeries may be required. For example, it's common after a vitrectomy to develop a cataract afterwards.
Slow down your life. Waiting for appointments and recuperation takes a long time, so be prepared for the long haul.
5) Overnight bag and shopping list
Always take clean clothes and toiletries in case you need to stay overnight, plans do change:

Recommend hat, socks and gloves, some wards are drafty.
Headphones to respect other's environment. Similarly take earplugs.
Phone charger, cables and adapter (most bed wards have only a single socket free).
Download podcasts and audiobooks in advance, probably no free Wi-Fi. My mum suggests word searches or puzzle books.

Don't take too many valuables. Your phone (for Libre sensor and comms) Some cash, but avoid cards and laptops. There are usually lockers available and a 24-hour ward landline for your friends and family.
Wee shopping list for recovery at home:

Paracetamol and ibuprofen.
Cotton wool to bathe eye daily.
Donut cushion and L-shaped pillow for positioning.
Prescriptions fulfilled.
Ready meals and light snacks
6) Theatre Fashion
Wear a short-sleeved top. Bring a hoodie or cardigan by all means to stay cosy on ward, but you'll need short sleeves for blood pressure (BP) readings, and a potential cannula.
I would also recommend loose fitting clothing, jogging bottoms are a perfect match for lying horizontally on a hospital trolley and recovering post-surgery in the ward.
Slip on shoes save you bending to tie laces. After surgery you'll want to minimise bending where possible. You may also not have the required vision for fiddly tasks like laces and buttons etc.
7) Streamline communications
With any eye surgery you may experience further, if temporary, vision loss. You will also be required to rest and position for long periods of time.
I was lying face down for 75% of my time for 17 days total after the two most recent surgeries. Therefore, it made sense for me to reduce my communications to a minimum.
Have one friend relay updates to your other chums via a WhatsApp group for example.
Try and resume normal communications and in-person contact when you feel comfortable. The mental health benefits are immeasurable.
8) Analog visual aids
It's possible you may struggle with your vision after surgery. Consider buying some cheap handheld magnifying lenses and reading glasses.
9) Lean on friends
Be sure and reach out to friends for pep talks, distractions, car lifts and help with errands (e.g. collect prescription).
Do thank your friends and healthcare professionals (HCP). Don't forget they may also be going through a shitty time. It's all too easy to become self-absorbed and obsessed.
10) Faith
This was without question the hardest part. I found the prospect of further sight loss this winter truly horrifying. Having lost some vision in one eye I had become completely reliant on my other eye for key daily tasks such as writing texts and reading screens. Even reading the dosage dial on my insulin pens was nigh on impossible. It can sometimes feel all downhill or inevitable.
What did give me hope was my surgeon and their team. They provided empathetic, concise and honest answers to all my questions. It also felt two-way, where my investment in a positive outcome was recognised and appreciated.
In my eyes it was a genuine partnership, one that gave me faith going forwards. Fostering and investing in a healthy relationship with your HCP will hopefully prove equally fruitful for you.
---
Download
An editable and print-ready Word document version of this resource will be available for download shortly.
Copyright and licence
The text, images and interactives published within this post are all intended to be shared, reused and remixed. In order to encourage this, I've applied a Creative Commons open licence to my own content where the only requirement is to include the following attribution.
Copyright © Stewart Lamb Cromar 2023 CC BY.
This work is licensed under a Creative Commons Attribution 4.0 International License.
---
Disclaimer
Please note this blog and its resources are a personal record of my own experiences. They have not been verified by any qualified medical professionals or other individuals from the University of Edinburgh.