Estimated reading time:
3
minutes
DYK eye trauma can cause your iris colour to change? In an eventful summer health-wise, one of my blue eyes is now green.
Last week my ophthalmic consultant observed that my left eye is now green, after a lifetime of being blue. The change is likely to be the result of three eye surgeries in quick succession this summer.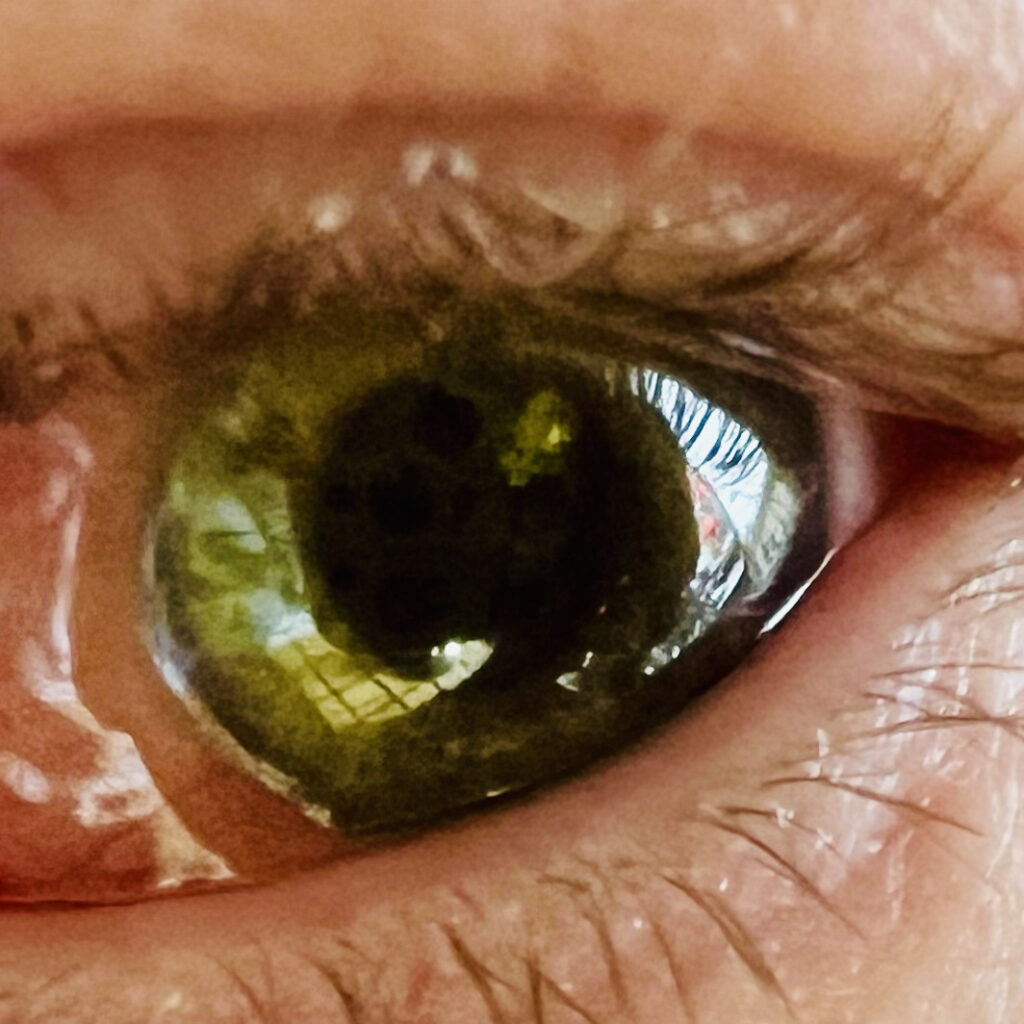 'Ch-ch-changes'
I couldn't find a lot of information from trusted sources online about this transformation. It could be anisocoria, this is what David Bowie developed after a childhood fight. Anisocoria is a permanently dilated pupil, which gives a false impression of a change in the iris' colour. Or it may be heterochromia iridum, where melanin levels can cause one iris to be a different colour.
Sight loss
What colour my eyes are doesn't actually matter, what really does is trying to preserve as much of my sight for as long as we can.
I've experienced multiple retinal detachments in the last three years caused by diabetic retinopathy. These incidents and their treatments have left me with some sight loss in both eyes.
Sadly, there is some hurtful judgement, even from healthcare professionals, associated with the chronic disease diabetes mellitus. I would encourage anyone not familiar to read my other sight loss journey blog posts, or listen to the personal stories of others experiencing similar challenges.
Low visual acuity
During the last few months, I've had several significant bleeds that have obscured the vision in my left eye. I had low visual acuity for a total of 30 non-consecutive days. For example, I couldn't read any sized text at any distance, or even count fingers the nurse held up in front of my face. I could just detect hand motion and light perception.
My amazing mum has helped me read and write important communications (like this blog), travel to appointments, crossing roads is particularly tricky, and given me the crucial cuddles when it all gets too much. You're never too old for a wee cuddle from your mum.
'Good Eye'
This used to be my 'good eye', sadly it's now caught up with the right in number of procedures (5 each, 10 total).
After multiple detachments we ended up in 2021 injecting a standard silicone oil (SSO) in the right to improve retinal stability. One key side effect is extremely blurred vision.
Visual aids
With a few visual aids I can read a little out of my right eye for short periods of time.
High strength reading glasses (+4.0)
Anglepoise lamp with magnifying lens
iOS accessibility features:

Zoom
Dark mode
Increase contrast
Bold text
Text size 235%
Summer '23
So far, my summer has consisted of three surgeries, 15+ hospital visits, bed rest, low vision, infection and pain management. Most people with chronic conditions are unfortunately all too familiar with these experiences. But what hurts the most is when it limits me doing what I love – seeing friends, collaborating with colleagues, and playing with Lego.
Mental and physical exhaustion is all too real after these medical episodes, they are all-consuming. I'm honestly a bit fragile, isolated and sad at the minute. However, I do count myself lucky to have a supportive home, work and healthcare team that help me weather the storm. 
'Just Around the Riverbend'
I've missed key work commitments, overseas friends visiting Scotland and not been able to celebrate important occasions in-person. But there are thankfully some joyful things to look forward to, just around the riverbend…
My eyesight has slowly improved following the most recent vitrectomy and gas bubble insertion. I can't read (yet), but can now count a few blurry sausage fingers! It's very early days, but I'm hopeful this progress continues.
I've also been fortunate to have a second Lego model chosen for display at the Lego House in Denmark next year. Please register your support in the fan vote.
And I'm gingerly planning to return to work where I'll catch-up with my talented team and slowly resume creative projects to benefit my University.
Support and advice
If any of these topics I've mentioned have affected you, I'd recommend contacting the free and confidential Sight Scotland support line.
Need support with sight loss?
Their trained staff spoke to me from genuine personal experience and were able to help reassure me about my future. They also kindly suggested Scottish accessibility services I wasn't previously aware of.
---
Disclaimer
Please note this blog and its resources are a personal record of my own experiences. They have not been verified by any qualified medical professionals or other individuals from the University of Edinburgh.